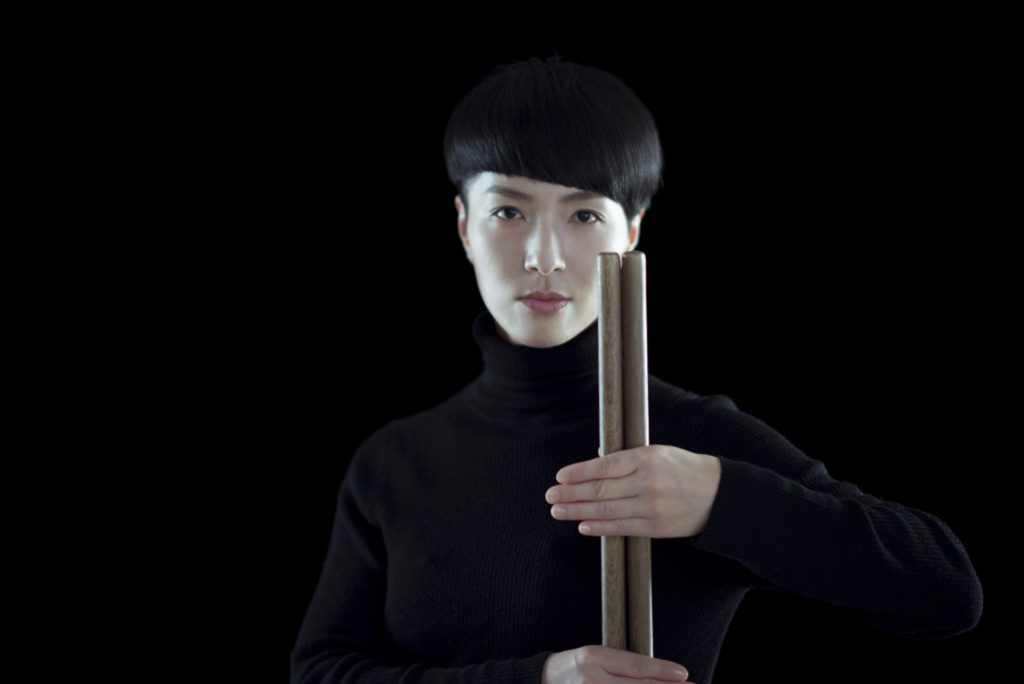 Tsubasa Hori (Japanese Taiko drummer)
Tsubasa currently lives in Antwerp, Belgium.
Born in Kyoto, Tsubasa started playing Taiko at the age of eleven. 
She later graduated from the Kyoto City Horikawa Music High School (Percussion Class).

While studying, Tsubasa began to play drumkit in bands and immersed herself into the world of 'Japanese Rock'. After this period, Tsubasa moved to Sado Island in 1996, and would be a performing member of the Japanese Drumming Group 'Kodo' over the next 14 years.
Not only was Tsubasa involved in the group as a main stage performer. She also wrote pieces and arranged works, and in 2008 she assembled a female-based Taiko production 'Cocon', allowing the exploration of female Taiko performance.
In 2010 Tsubasa moved to Belgium, collaborated with musicians whose works are pushing the definition of genre, and became involved in theater productions, dance works, fashion related performances and artworks.
Her solo performance is based on improvisation and in recent years she also gives importance perform for children.
Tsubasa uses a number of other instruments with a distinct Japanese flavor
, including Koto (Japanese Harp), Voice, Piano, Kyujo-orin (modern Japanese bells), and Music Box. 
She is highly-regarded by the music community, and has performed in over 40 different countries in her career.
堀つばさ (和太鼓奏者)
アントワープ在住。
京都出身。3歳よりピアノ、11歳より和太鼓を始める。京都市立堀川音楽高校打楽器科卒業。
在学中よりドラムでバンド活動を始め「日本のロック」を求め96年より佐渡拠点の和太鼓集団「鼓童」に14年間在籍。
中心メンバーとしての舞台演奏のほか、作曲、編曲も手がけ 2007年には女性ユニットを立ち上げ、積極的に女性和太鼓奏者の表現の可能性を探る。
2010年よりベルギーを拠点に移し、国籍、ジャンルを超えた音楽家達、演劇、ダンス、ファッション、アート映像との共同製作を展開中。また近年は子供へ向けたパフォーマンスにも重きを置いている。
日本の風土から産まれた音を原点に和太鼓のみではなく箏、歌、ピアノ、久乗おりん、オルゴールなども取り込んだ独自の音楽感が国内外ともに高く評価され、
これまで40カ国以上での公演を行ってきている。
https://www.facebook.com/tsubasa.taiko
https://www.instagram.com/tsubasahori_taiko/
photo: Yutaka mori
Hair&Make:Mieko Ueda